UNICEF /

Rights Respecting School
We are extremely proud to announce our achievement of the Gold Rights Respecting Schools Award!
In January, our school was visited by the assessors who spoke with children, teachers and support staff, parents and governors, to find out how our school helps ensure children receive their rights and how they learn about and promote children's rights around the world. Just before half-term we received a glowing report about their experience and this week our Rights Rangers unwrapped a parcel containing the accompanying banner and certificate!
Although this is the highest level of the award, we do not intend to rest now!
Our next projects include thinking more about refugee children through becoming a 'school of sanctuary' and making a link with a primary school in Indonesia to extend our learning about the global goals for sustainable development.
We are very proud to share our Whole School Charter with you!
Our Rights Rangers chose the 7 children's rights they wanted to be most prominent around our school. Every child in school 'signed' a right for their year group with their fingerprint, making a hot air balloon for each of them.These are on display in our school entrance but you can take a look at them here.
Our Playground Charter
Making sure everyone has their rights, and that we respect one other's is really important to our school.
This is our playground charter. Everyone in school has signed a copy and all our dinner supervisors have them to hand to remind them of their role as duty-bearers.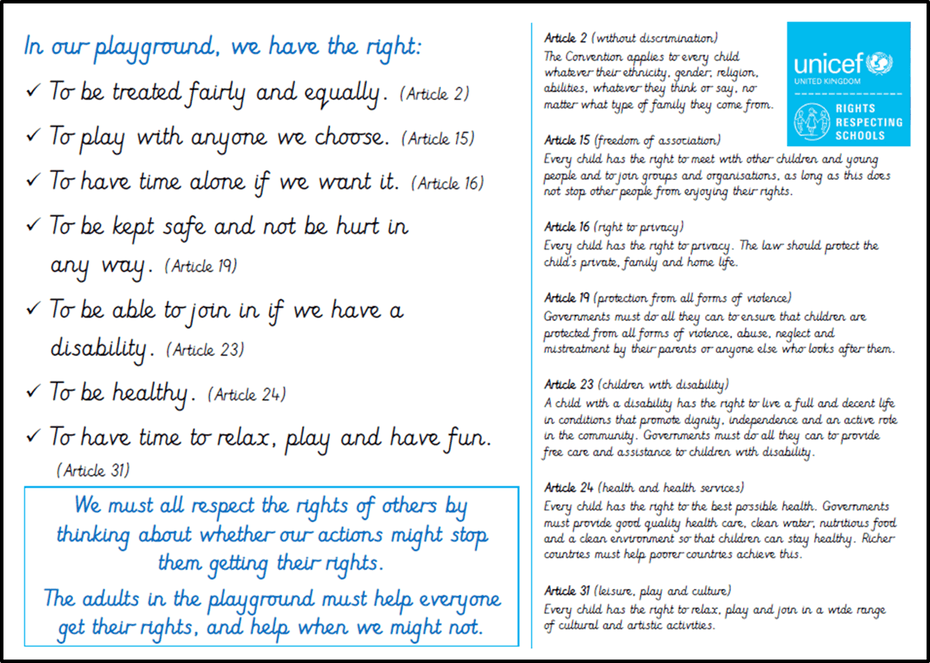 June 2017
Our Rights Rangers are very pleased to announce our school have been awarded the Rights Respecting Schools Award - Level One. This is in recognition of the learning and campaigning our whole school community have been doing about Children's Rights, both here and around the world. We will now be setting our sights on Level 2 and hope to achieve this next year.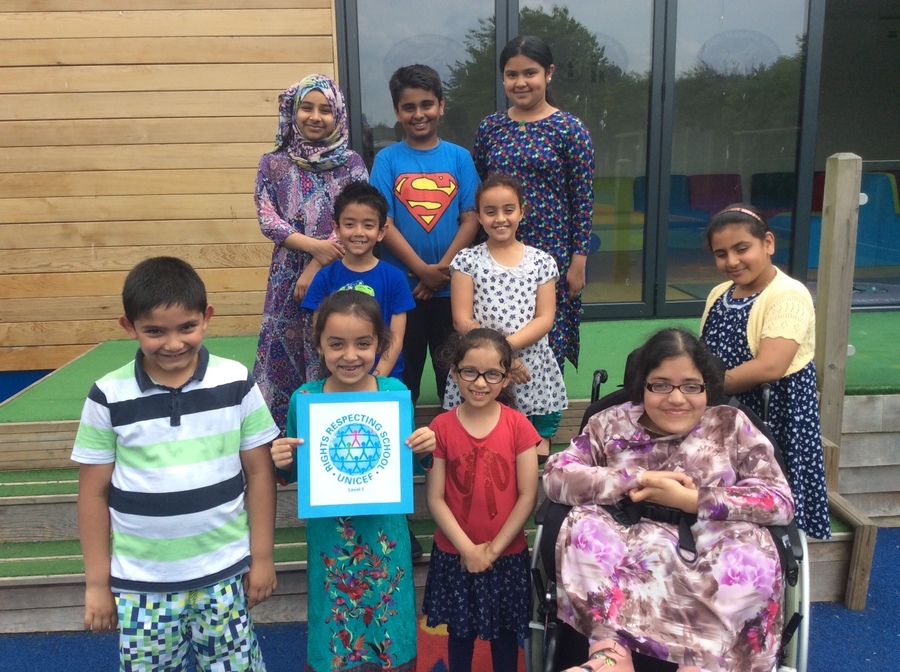 UNICEF'S DAY FOR CHANGE
On Friday 13th May 2016 pupils in every class took part in Unicef's 'Day for Change'
Raising money to support Unicef's work to protect the children of Syria.
Children brought in as much loose change as they could, and laid it end-to-end in the playground to see which class had the 'longest' amount. 4N won, with a total distance of 92 metres!

Rights Respecting Launch Day
On Tuesday 19th April 2016, all the children participated in our 'Rights Respecting Launch Day'. During the day they made their own Class Charters; choosing the Rights they wanted in their classroom and thinking about how they would respect them.
Class Charters
We have been busy this term continuing work on our Rights Respecting Schools Award. Children have been choosing the children's rights they think are important for their class and thinking about what they need to do to respect them.
These are put on display as a class charter, with the children deciding on their design and every child 'signing' the charter by adding their name, handprint or photo.
They all look amazing and children and teachers will be using them throughout the year to help support positive behaviour in school and help us recognise when children may not be getting their rights.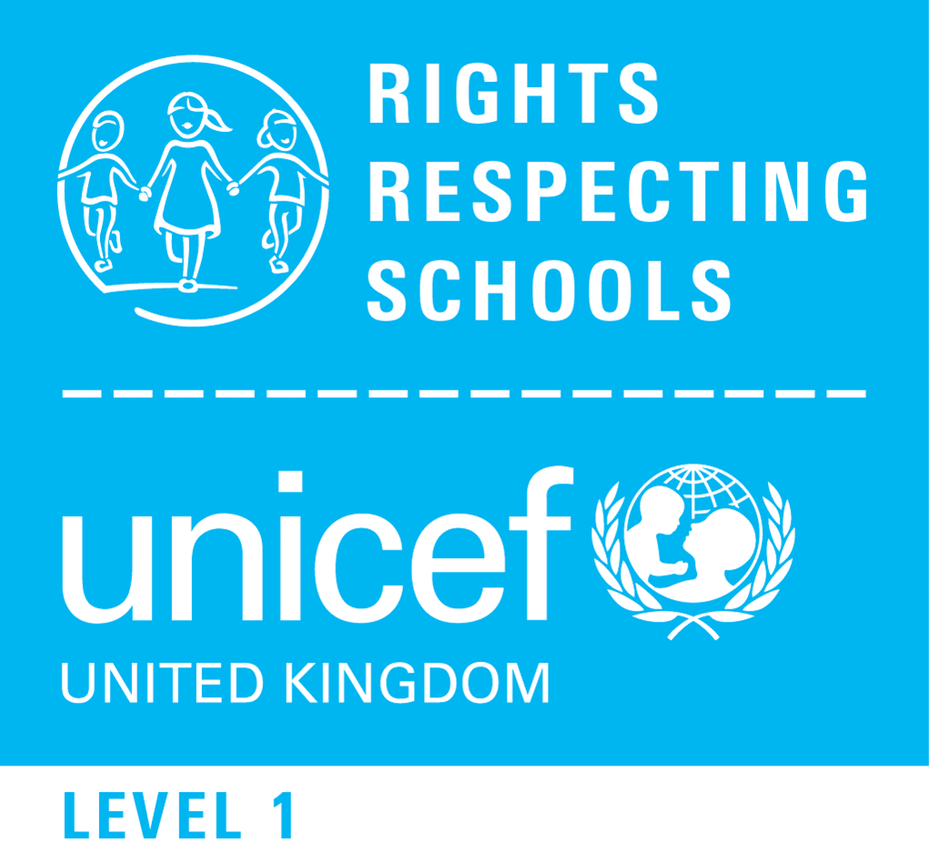 Rights Respecting School Award
Nelson Mandela School is very proud to be working towards the Unicef Rights Respecting School Award.
A Rights Respecting School is a community where children's rights are learned, taught, practised, respected, protected and promoted. Over the forthcoming months, children and our school will learn about children's rights by putting them into practice every day. The Award is not just about what children do but also importantly what adults do – in Rights Respecting Schools, children's rights are promoted with adults and children working together.
These are our new Rights Rangers for 2018 - 2019.
Mrs Jeffery and everyone in school would like to thank our retiring Rights Rangers for an excellent job, and know they will continue to help make sure all the children around the world get their rights!
| | | | | |
| --- | --- | --- | --- | --- |
| Uzair - Year 2 | Hibbah - Year 2 | Arwa - Year 3 | Anees - Year 3 | Aleesa - Year 4 |
| Asma - Year 4 | Hafsah - Year 5 | Ammarah - Year 5 | Saida - Year 6 | Ibrahim - Year 6 |